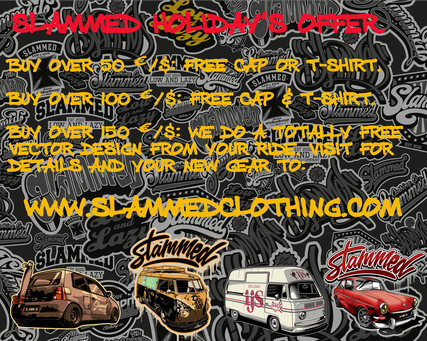 So.... 2020 is almost over. A -not so good- year for lot's of us. Bad for Aircooled events and meetings.
But.... if you ever thought of supporting Slammed and buy gear or stuff and gettin' your ride designed;
this is the moment duded and dudettes..!
Spoil yourself, your friend, boyfriend or anybody you like with slammed clothing co. gear and get awesome freebies. A free cap , a free t-shirt or even both!!
When you decide to buy the 'grand slam'  and the best 150 euro/dollars or more ever, the design team will draw your ride for free. 
The only thing you do is email us a high resolution picture of your pride and we do the job.
Please allow us some time, we only deliver the best qualty.
Now, Fill up that shopping basket with cool stuff and Don't forget to add your choice, depending on what you choose. thank you for you support!
buy 50 get a random cap of t shirt added free. buy 100 and get both.